THE LI HURRICANE WATCH
HURRICANES WIN THE BRANDS MUDDY TIRE 4/11
Hurricane rider, CHRIS TRIMBLE wins mens 15-18 division of the brands muddy tire mountain bike race. Hurricane rider Christian Symons won the 12-15 division with Stephen Verderame placed second and received silver. Coach Scott Zelenetz placed third in the 50+ men division and great rides done by all hurricane riders along with many of their parents.
​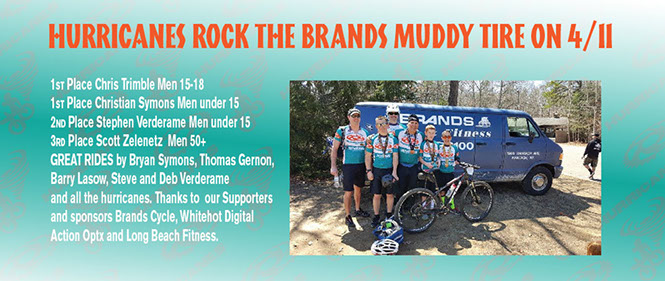 NICA Sprain Ridge Park 4/12
The day following the Muddy Tire Hurricane Riders participated in their first NICA race in the New York Cycling League. Christian Symons placed 9th in the middle school race, with Stephen Verderame placing 15th and Benjamin Zelenetz 22nd. Despite the hard ride, the day before and not having the opportunity of a pre-ride the day before the race and starting at the very back our boys put in a respectable showing in their first ever NICA race.